A 501-(c)(3) non-profit organization serving the
Startex – Tucapau community.
Come on – Join In. We are "On the Move" in Startex, South Carolina
Startex – Tucapau
Clean-up Day Event
When:Saturday, April 22, 2023
Times:9am – 12 noon
Where: The meeting place is the parking lot across
       the street from the Startex Post Office
       21 North Main Street, Startex, S.C. 29377
Everyone is Welcome
We are focusing on the northern end of the village. Upper Hickory Dr., Jackson Dr., Quinn Rd., Spartanburg Hwy., Tucapau Rd., and Startex Rd.
If you have weed-eaters, chain saws, brush cutters please bring them.
Also needed are pick-up trucks and dump trailers to haul
trash, debris and unwanted items to our dumpsters.
Some folks can't physically get out and work like they once could….
However, we need you there to help encourage us and cheer us on.
It means a lot to have your support behind our efforts.
There will be updates given on our progress….
Plus 1 or 2 other surprise announcements.
We will be serving Free Lunch for All.
Plus, Free Event T-Shirts & Prizes !!!
Tell your friends, tell your neighbors…
Looking forward to seeing everyone there!!!
 Donald Jones
205-807-3548
Jeffrey Shelton
864-901-3758
Larry Hood
864-431-2207
Rich Solesbee
lakecooleylawnandgarden@gmail.com
864-316-5662
Jeremy Elliott
864-606-9907
Sherry Santana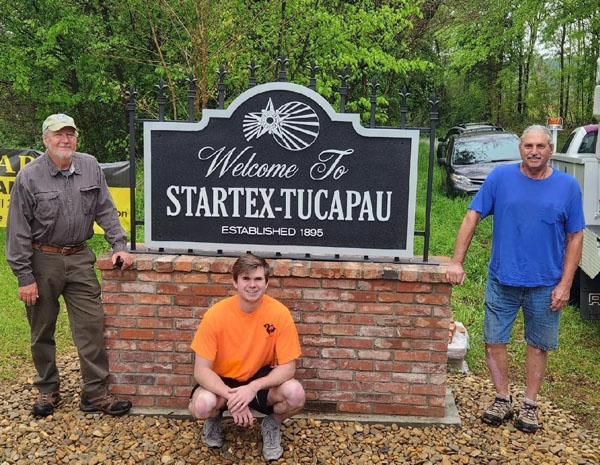 (Pictured L to R, Jeffrey Shelton, Brycen Morrison, Larry Hood)
Welcome to Startex Sign
Come out & meet Brycen Morrison this Saturday
This Fabulous sign is what Brycen Morrison was able to accomplish for the Startex Tucapau Mills Community as his Eagle Scout Project.
This is an outstanding example of use of his skills, talent, resources and knowledge…..not to mention a beautiful addition to our community. This newly erected sign is located on South Main Street, just across the road from the soccer fields.
Using over 500 reclaimed bricks from Startex – Tucapau Mill, Brycen accomplished this project in record time and within budget.
From an idea, to concept, design, vendor selection, construction management and volunteer management…..All the way to the finished product. This "Welcome to Startex-Tucapau" sign was all Brycen Morrison.
We will be dedicating Brycen's awesome "Welcome to Startex- Tucapau" sign at our Clean-Up Day lunch this Saturday, April, 22nd.
Come on out for Free Lunch….meet Brycen and thank him for his hard work and dedication to the Startex Community and
becoming our areas newest EAGLE SCOUT.
(Big Tent at 21 North Main St, Startex, across from
Startex Post Office, can't miss it)
*********************************************************
Startex Bridge Project
We Need Your Help & Support
If you haven't heard, we will be refurbishing and repurposing the
Historic Startex- Tucapau Iron Bridge.
Imagine…… a pedestrian bridge that will double as an Entertainment Venue!!!
Awesome, just plain Awesome……
———————————-
Just Imagine…… folks hosting weddings, concerts, plays and other events
On The Historic Startex Bridge.
The views, the gentle breeze and sound of the Middle Tyger River rippling over the shoals underneath you. Nothing else like this around our area anywhere!!!
.
———————————-
Can You Imagine…….an LED lighting system on the top of the bridge
and underneath.
LED lights Shimmering and Dancing off the water and shoals of the
Middle Tyger River. (Maybe even to music!!!)
This will be one of our "Cool Factors"!!!
———————————-
Just Imagine…….sharing memories and stories of area family & friends.
Reminiscing about living in Startex or working in the mill.
How about just strolling across the Historic Startex Bridge
with your kids, grandkids or friends?
Again, Awesome…just plain Awesome.
We invite you to be involved with this special project that everyone will be Extremely proud of.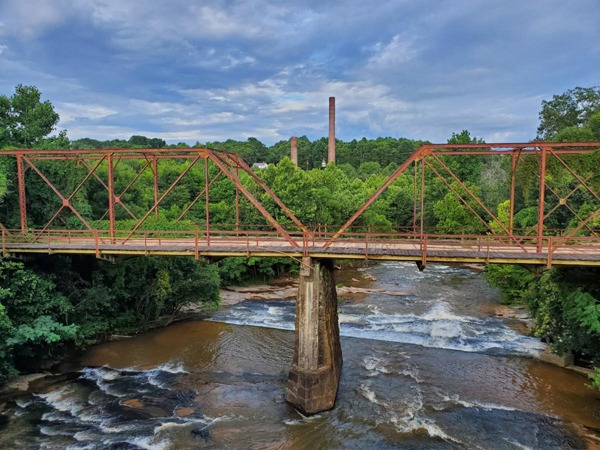 The Current Historic
Startex Iron Bridge
over the
Middle Tyger River.
It was built about 1900, and was refurbished in 1932 by Roanoke Iron and
Bridge Works
Roanoke, Virginia.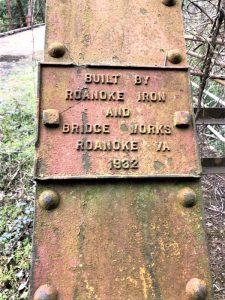 Startex-Tucapau Preservation Foundation
P.O. Box 280
Startex, SC 29377