A non-profit organization serving the Startex – Tucapau community.
Come on- Join In. We are "On the Move" for Startex.
Startex-Tucapau News Volume 2 Number 1 January 2022
Startex Circle of Friends
Announcing…
Startex – Tucapau
Mill Village Reunion
and Historical Display 2022
Mark your calendars now to attend this special event on
April 30th, 2022.
Come one, come all.
This is a drop-in type of affair where you can see old friends & meet new ones. Plus, you will see some amazing artifacts and
photos from the past.
Light refreshments
will be served.
When:
Saturday April 30th, 2022
Times:
12pm – 4pm
Where:
Tucapau Baptist Church Family Life Center
4 Chestnut Street
Startex, S.C. 29377
Volunteers are needed to help with our reunion.
Here is a partial list of
volunteer assignments:
> Greeting guests, making everyone feel welcome
> Signing guests in
> Making guest name badges
> Serving refreshments
> Assigning artifact tables
> General clean-up afterwards
If you, your church, or group would like to volunteer, please let us know below.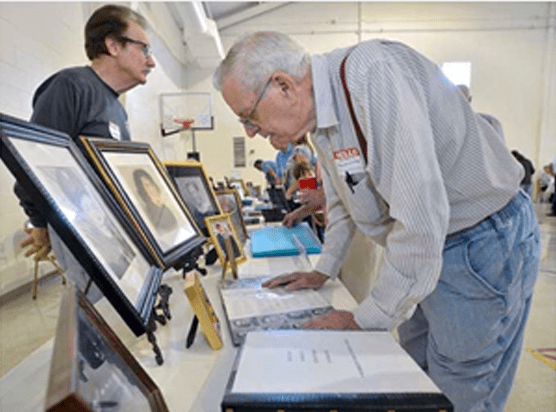 Jerry Sudduth, right, and Leland Harvey left, study the many artifacts and photos on display at our event back in 2014.
---
Startex – Tucapau Preservation Foundation
We are a non-profit organization dedicated to serving the Startex Community.
Our Mission Statement
To Serve, Revitalize, Preserve, Protect and Restore the Startex – Tucapau Mill & Village that is located in Spartanburg County. The Startex – Tucapau Preservation Foundation addresses numerous community issues including Neighborhood Revitalization, Affordable Housing, and Historical Preservation and Restoration. All of these are funded by a combination of donations, grants, gifts, and various other fundraising efforts.
We have partnered with several neighboring organizations and agencies. Among these are The Spartanburg County Foundation, Together S.C., and Spartanburg Area Opportunity Housing Collaborative sponsored by The United Way of the Piedmont.
We are a "Group on the Move" for Startex. There are lots of great things ahead. However, we need your help to get us there. We need volunteers to step up to help with our various projects. If you would like to see improvements, better looking landscapes, and better quality of life for area residents now is the time to step up and volunteer.
If you would like to be involved with our group, please contact us. Let's talk about how you could be involved in the "Rebirth and Revitalization" of the Startex-Tucapau area.
Donald Jones
205-807-3548
Judy & Jeffrey Shelton
864-901-3758
---

Startex Affordable Housing Project
We are unveiling an ExcitingNew Project aimed at making a difference in Startex.Recently, two Startex area mill village houses were gifted to Startex-Tucapau Preservation Foundation.
These 4 room mill village houses are both located at 124 Hickory Drive in Startex, S.C.A portion of the cost has been allocated to completely renovate the first of the two houses. Donations, gifts and other fundraising sources will be needed to complete this project. Refurbishment of plumbing, bathrooms, windows and an HVAC system will comprise the majority of the expense.
Housing that is affordable, functional, and aesthetically appealing is greatly needed in the Startex area. We are calling on volunteerswith expertise in renovations, electrical, plumbing, woodworking and HVAC to help with this exciting new project.
Our goal is to identify other Startex area properties that could be refurbished and made available as affordable housing for area residents or future new residents.
---
Big "500" Community Clean-Up Day
Plans are currently being made for a Community Clean-Up Day focusing on the "500" section of the Startex Mill Village. For those who may not be familiar, "500" is the area behind Startex Mill. This sometimes forgotten area of our mill village has been neglected over the years and is in dire need of our help.
We are looking for hands-on volunteers to help with this project. Some of the equipment that will be needed include:
> chainsaws
> weed eaters
> brush cutters
> dump trailers
Also needed are several pick-up trucks with a bed for hauling debris and trash.
Date and time for the Big "500" Community Clean-Up Day will be announced as more information becomes available.
---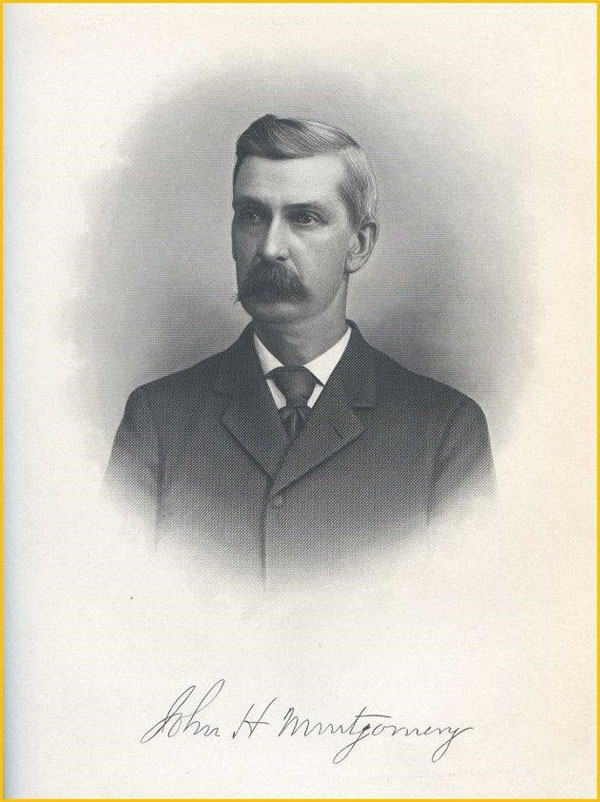 "Captain John's Waterwheel"
The amazingly talented Startex native, Jeffrey Shelton, has released his latest original songas a moving tribute to theTucapau community and Tucapau Mills founder, Captain John H. Montgomery. The song "Captain John's Waterwheel" tells the story of the beginnings of our working mill and community. If you would like to help us preserve that history andcontinue our "vision of community", please consider a contribution to our foundation.
Donations can safely be made on our website. www.Tucapau.org
Below is a link to Jeffrey Shelton's original song "Captain John's Waterwheel"
Click to Hear "Captain John's Waterwheel"
---
Upcoming Events
Startex – Tucapau Mill Village Reunion
April 30th 2022 12pm-4pm
Big "500" Clean-Up Day
Date & Time TBA
Mingle at The River
June or July 2022
Other details will be announced as information becomes available.
Upcoming Project
Refurbishing two local Startex houses to be used as affordable housing for 2 local families. An onsite planning meeting will be Saturday, January 22nd at 10am. The address is 124 Hickory Drive, Wellford, S.C. 29385.
Volunteers are needed for this project.
---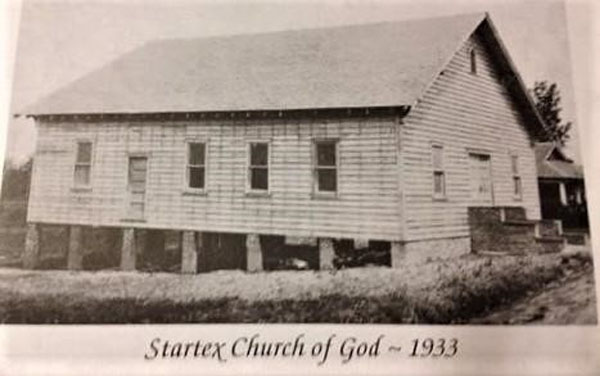 Startex Church of God
The Startex Church of God was organized in 1931.
During its humble beginnings, meetings were held in people's homes until a church building was built.
"A rectangular unpainted frame building without belfry. Wood steps, double entrance doors
of pine direct. No vestibule, square windows of plain glass. Wood walls & ceiling, straight slat benches, plain altar no inscriptions.
No Parsonage or Cemetery"
Size of building 25 X 40, Value
$800.00
Lot size, 75 X 125 Value $200.00
Total Value of Church & Property $1000.00
7 Charter Members, 1936 Membership 21
The First Deacons were M.C. Freeman, Taylor Bradley,
W. Jackson
Mr. M.C. Freeman was also the first church clerk. He was very instrumental in the founding & building of the Church
Source: South Carolina Department of History Records
"He was so dedicated to the project that he and others would visit door-to-door seeking donations and selling wooden pencils at 5 cents each to pay for lumber."
Quote from "Carolina Linthead" by John D. Wilson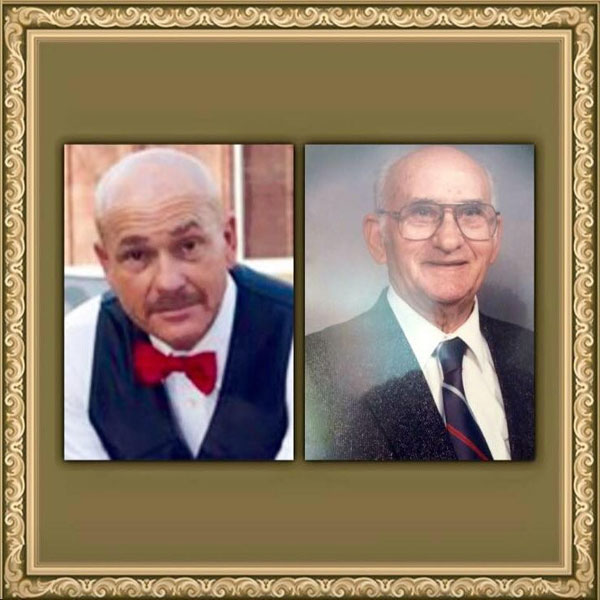 Allan Freeman (L) and his grandfather Millard Columbus Freeman (R)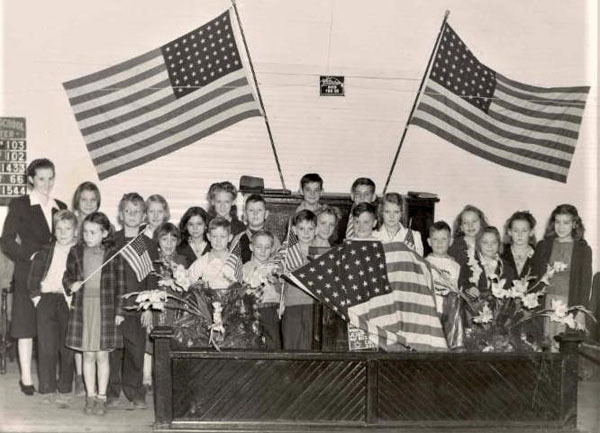 Startex Church of God Children's Church Early 1940s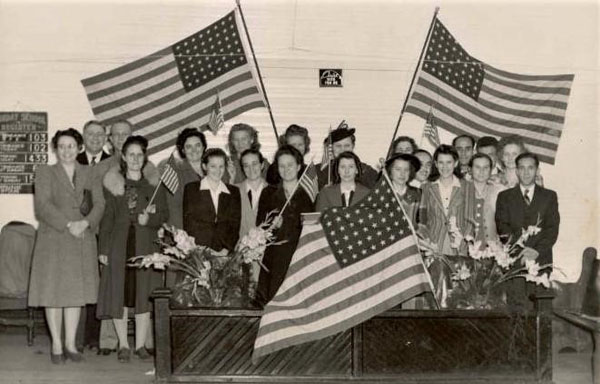 Adult Sunday School Class 1940s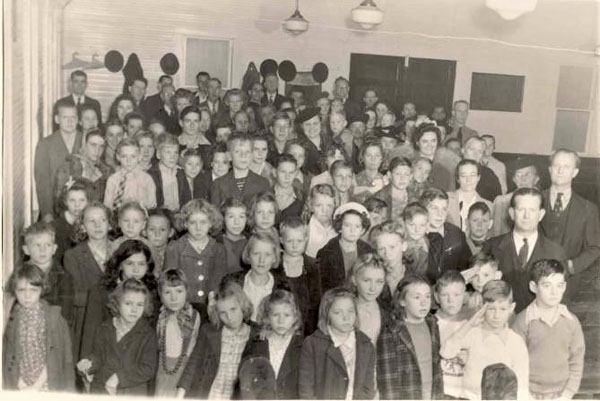 Rare audience view early 1940s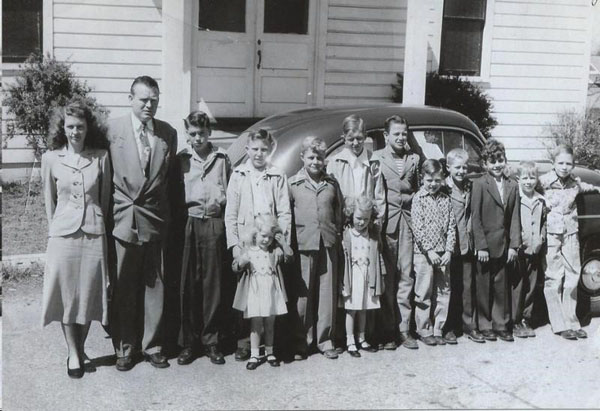 1950s Startex Church of God Sunday School Class
Annie Mae Hart and Harry Lee Hart are the teachers.
---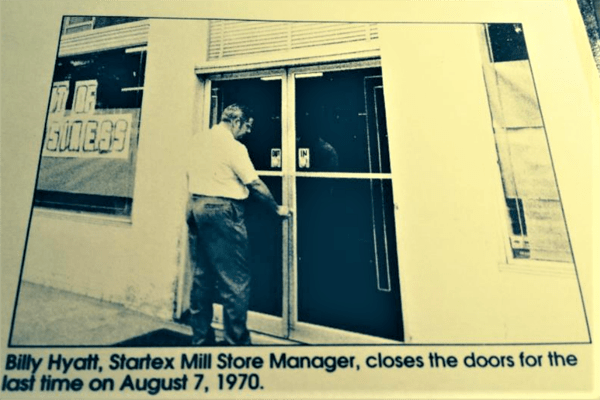 THE COMPANY STORE or "COMPNEE" STORE
by Cindy Dobbins Towery
Some of my fondest childhood memories revolve around visiting the Company Store in Startex where my mother, Mary Bright Dobbins, worked. The store was owned by the mill as most things in Startex had once been. The store not only provided food and supplies but also a place for fellowship and camaraderie.
As a child I walked to the store daily in the summer after arising. There I was welcomed, teased and made to feel like part of the store family. My mother was the bookkeeper, so she worked in the special office located in a raised area of the store. It had two steps and a swinging door at its entrance. In her office, I sat in swivel chairs and played with adding machines, for calculators were non-existent. I also watched as customers paid one or two dollars on their charge accounts with the store.
These payments were posted
on special manila cards which I
was not allowed to touch.
Momma worked in the office with Lillian, another office worker, and Mr. Billy Hyatt, the store manager. Billy had moved to Startex from Roebuck to take this job. He and his family still live there, not wanting to leave the small community after the store closed.
I remember eating my second breakfast at the store. Usually, it was a Sunbeam Devil's Food Cake and a Dr. Pepper. I always tried to get to the store by 10 o'clock. My juvenile mind, swayed by advertising, felt that one could only enjoy a Dr. Pepper at 10, 2, or 4, as the bottle suggested. After spending my twenty-five cents, ten cents for the drink and fifteen cents for the cake, I wandered throughout the store watching, observing, and enjoying the daily routines.
I saw Esther, who worked at the far end of the store in Remnants. She sold dish towels, bath towels, and cloth made at the mill. The smell of dye tended to burn my eyes, so I only visited there long enough to watch her weigh the towels being purchased by someone. They were sold by the pound. Then I wandered to Jennie Sandlin West's Fashions. She sold clothing, shoes, and my favorite, jewelry. She was usually located at the jewelry counter where beads, ear "bobs" and chain necklaces were sold. Jennie always seemed to be sporting some of this fashion jewelry.
My least favorite section was Sporting Goods. After all, I was a girl, and why should I be interested in fishing poles, baseball bats, and flashlights? Jean Padgett worked here and was affectionately nicknamed "Padge" to all who encountered her. The Grocery section of the store contained a meat market, produce section, three aisles of grocery items, an ice cream freezer and two cash registers. Mr. Boulware worked in the smelly Meat Market with its sawdust floor and shining white paper. He did have tasty livermush ready to slice for my package of saltine crackers.
The aisles, stocked similarly to the Fast Fares of today, contained a few multiple copies of the wanted items. The wooden shelves were painted greenwith metal stripping on the edges. The Produce section lined the far wall with the color green prevalent in my mind's eyes. I'm sure there were plenty of collards, turnip greens, and green beans ready to be placed in brown paper bags and weighed by Mr. Smith or Mrs. Frances Hyatt, the store manager's wife. The two check-out lines were manned by Faye at the head register and Frances on the second one. Frances only worked part-time at the end of the week when the store was busy.
One of the special things about the store was its grocery delivery. People would come in and "order groceries" as they called it. Then the groceries would be placed in wire baskets similar to clothes baskets. When several baskets were filled, Fred Gossett would load them in his truck and deliver them to the homes of customers. It didn't matter if the folks weren't at home because the doors were not locked in those days. Fred would empty the baskets of groceries on the kitchen table. Refrigerated items were placed in their proper places. Then Fred wasoff for the next delivery.
I remember how grief-stricken my mother looked one day after work. She had just been told about the store's intended closing. The officials at Spartan Mills had decided the store was not turning enough profit. It wasn't modernized. It had to close. The employees and residents of Startex were frustrated, angry and saddened. How could weface having a part of our daily routine destroyed? Where would we buy groceries? What about the residents who didn't drive? Where would we meet together and socialize?
Today when I ride by the vacant building, now boarded up and used for storage, I feel a part of me is inside. I see a dark-haired, skinny eleven-year-old, bouncing down the steps two at a time, swinging open the door and entering a world of friendship and Southern tradition. The "Compnee" Store molded my life and helped form the "Me"of today. How appreciative I am for those fond memories!!
Cindy Dobbins Toweryand her husband
Reverend Ronald Towery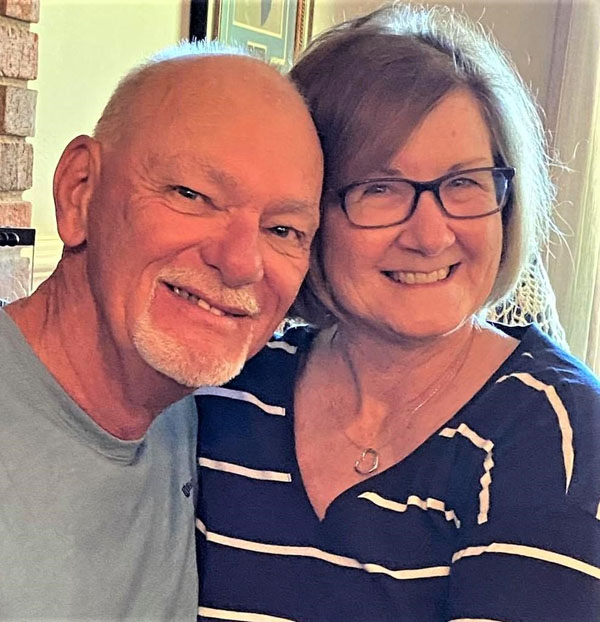 ---
Donald's Corner
As many of you already know, I am Donald Jones, and I am from Startex. My dad was Maurice Jones. He kept up the Byrnes Band Rebel Regiment buses for over 30 years. My paternal grandparents were Fred and Lockie Jones who owned and operated Jones Service Station between Startex and Wellford. My maternal grandmother was Millie Trammell Green. She lived across the street from Startex Church of God where she was a member for over 50 years. I have a special place in my heart and many fond memories of Startex.
I know that many of you share this feeling as well. Please let us hear from you! What are your favorite Startex memories and stories?
How Can You Help?
Several folks have asked,
"How can I help?"
Currently, we have several committees that need volunteers.
Reunion Committee
Helping to plan and organize our Startex-Tucapau Mill Village Reunion in April 2022.
Funding Committee
Helping to identify funding sources (grants, donations, sponsorships, and other sources) to fund various Startex projects.
Affordable Housing Committee
Helping to plan, organize and implement the refurbishment of two local Startex houses that were gifted to our organization. Once completely refurbished, these homes will be used as affordable housing for area residents.
Please let us know if you would like to volunteer for one of our committees.
---
Startex-Tucapau Preservation Foundation
Donald Jones
2636 Shoemaker Street
Birmingham, Alabama 35235
205-807-3548